THE once upon a time buzzing Island Plaza in Tanjong Tokong is set to take the limelight once again after a Hong Kong businessman snapped up the iconic landmark and has vowed to make the place great again!
It will be renamed 'Island 88'.
Since the emergence of new shopping malls in the state offered stiff competition with one another, Island Plaza was neglected despite being in the prime Tanjong Tokong area.
All is not lost though as the building is expected to go through redevelopment, re-design and major revamping on the road to becoming a preferred destination filled with exciting and fun activities once again.
Chief Minister Chow Kon Yeow said back in the late 1990s, Island Plaza was a hub of commerce, entertainment, and social interaction.
"It was, at the time, one of the major shopping complexes in Penang, after Komtar.
"But as we all know, competition from other malls which emerged later took its toll on this grand structure that used to be Penang's most glamorous shopping mall decades ago.
"All is not lost though, and with the new management taking over, it's time to give it a much-needed new lease of life.
"The rebirth of Island Plaza into what shall be known as Island 88 is a testament to our commitment to preserving Penang's heritage while embracing modernity and progress.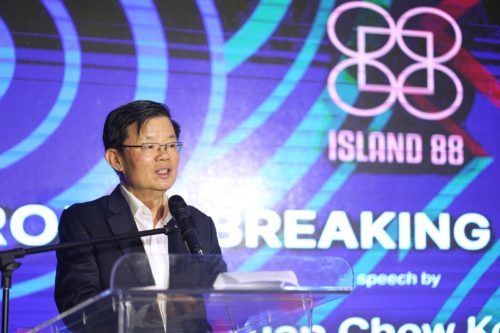 "This would not have been possible without the commitment of Paul Law and Philip Law from the management (Hong Kong), as well as their team's tireless efforts and dedication to ensure that this project is kickstarted with the highest standards of quality and safety.
"Your unwavering dedication towards your vision of what Island 88 should be is similar to the values that make Penang a great place," Chow said in his speech during the groundbreaking ceremony of the new project at Island Plaza in Tanjong Tokong today.
The refurbished Island 88 will be a sight to behold, a modern, state-of-the-art facility that will provide our people with world-class shopping, dining, and entertainment options.
"It will be a source of pride for Penang, a reflection of our unwavering commitment to progress, and a clear indication of our resilience in the face of adversity," Chow added.
There is no denying that Penang and Hong Kong sit comfortably on the same page, complementing one another in many areas, such as both cities having diversified cuisines, vibrant food cultures, multicultural heritage and similar British colonial memories.
"We both offer a variety of entertainment options, including festivals, and have a vibrant arts scene, with many galleries, museums, and street art.
"There are cinemas, theatres, night markets, and eateries for the locals to enjoy.
"Both cities are renowned for our festivals and yearly events, such as the Penang International Food Festival and the Hong Kong Arts Festival, which offer a unique blend of local and international talent.
"Such striking similarities that Penang has with Hong Kong are the pull factors that have attracted investors such as Mr Paul and Philip Law who find themselves very much at home here.
"Hence, I urge all of you to join me in celebrating this momentous occasion and to look forward to the grand opening of Island 88 with excitement and anticipation.
"Our city is on the rise, and we must all work together to ensure that our progress continues unabated," Chow added.
Also present during the event were state Tourism and Creative Economy Committee chairman Yeoh Soon Hin, Bukit Bendera MP Syerleena Abdul Rashid, Pulau Tikus assemblyman Chris Lee and Penang Island City Council (MBPP) councillor Connie Tan.