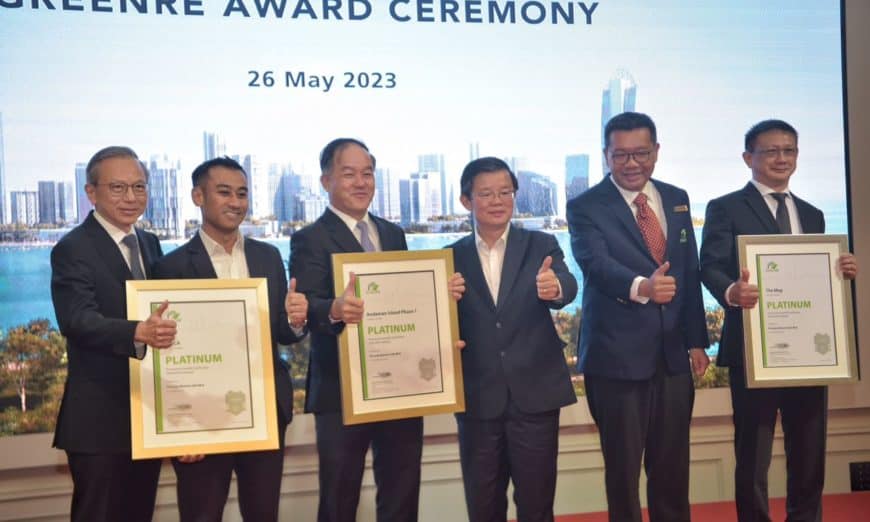 UNDER the Penang Green Agenda 2030, the state aspires to have at least five green townships by 2030, and Andaman Island Phase One is setting a high benchmark after attaining the GreenRE (Real Estate) Platinum Provisional Certification for the township and residential categories, Chief Minister Chow Kon Yeow said.
Andaman Island, the brainchild of premier lifestyle property developer, Eastern & Oriental Bhd (E&O), is divided into two phases, in which the reclamation for Phase One (253-acre land) has been completed and will go undergo major developments over the next 15 years or so with an estimated gross development value (GDV) of RM17 billion.
Meg and Arica are the two service apartments that were awarded under the residential category.
A special award ceremony was held earlier at the E&O Hotel, with Chow as the guest of honour alongside other state leaders, business associates, future property owners (Meg and Arica), as well as top players from the banking sector.
"Green buildings and townships are among the ten key focus areas under the PGA 2030, which was launched in 2020 to safeguard our environment and prioritise sustainable development towards achieving the Penang2030 vision of 'A Family-Focused Green and Smart State that inspires the Nation'.
"Residential and commercial buildings form the backbone of urban development and have a significant environmental footprint.
"As such, we encourage future developments that have a low carbon footprint with sustainable practices and green construction methods to build better living spaces for everyone.
"The push for green building certification for all new buildings will also help reduce energy-related greenhouse gas emissions and lower the consumption of energy which is in line with the Low Carbon City Framework adopted in Malaysia.
"Across from the Andaman Island fronting Gurney Drive, the 131-acre Gurney Bay (previously known as Gurney Wharf) is another effort of the Penang Green Agenda 2030 where the iconic tourism attraction of Gurney Drive is enhanced with public facilities for the people.
"This green lung is an example of greening existing and established residential and commercial neighbourhood.
"The state strongly encourages other developers to emulate E&O's commitment towards sustainable development and to obtain green certification for your projects and townships.
"Let us all continue to work together in shaping a more sustainable and prosperous Penang to realise the Penang2030 vision," Chow said in his speech during the GreenRE Platinum Provisional Certification award ceremony at E&O today.
GreenRE was formed by Malaysia's Real Estate and Housing Developers Association (Rehda) in 2003 to promote sustainability in Malaysia's property sector.
As for Andaman Island, the reclamation for Phase Two, which is expected to take another three years to complete, will have land measuring up to 407 acres.
Also, present during the event earlier were State Secretary Datuk Mohd Sayuthi Bakar, state Housing, Local Government, Town and Country Planning Committee chairman Jagdeep Singh Deo, state Transport and Infrastructure Committee chairman Zairil Khir Johari, state Environment and Welfare Committee chairman Phee Boon Poh, Penang Island City Council (MBPP) mayor Datuk A. Rajendran, E&O executive chairman Datuk Tee Eng Ho and Rehda Malaysia national council member Datuk Rick Cheng.
Story by Kevin Vimal
Pix by Darwina Mohd Daud
Video by Noor Siti Nabilah Noorazis